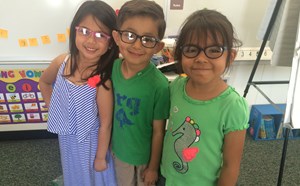 New this year, GGUSD has expanded its transitional kindergarten program to serve more 4-year-olds than ever before. If your child was born between September 2, 2016 through September 1, 2017, please register your child for our free full day kinder…
Principal's Message
Dear Parents and Scholars:
Welcome to the 2020-2021 school year! It is an honor to be the Principal of Hazard Elementary and to work alongside our exemplary team of educators, staff, and parents.  At Hazard, our vision and mission aligns with that of the district and we are committed to honing the academic, personal, and future success of our scholars.  Fostering a culture of college and career readiness begins here and you are an integral part of the team!  I am excited to continue the partnership built here at Hazard where parents, teachers, and scholars work together to create a positive school culture! Together, we can continue to SOAR to great heights!  ​
We welcome your suggestions and are looking forward to a great school year.
 Mrs. Hufnagel, Principal
Our School
Welcome Hazard scholars, families, and community!
We are proud of our Eagle Scholars academic achievements and perseverance. Without them, our school would not excel in the amazing way it has over the years. 
Here at Hazard, our PTA meets monthly as they plan the events for the school year! Parents are in charge of reviewing expediters regarding field trips. They are also responsible for Hazard's fundraising efforts. Additionally, they support student fitness in the Spring Jog-a-thon. At the end of the year, they will support Open House as students showcase their excellent work in June. 
Our after school programs and activities are up and running to support students in different areas. Here are our programs:
Boys & Girls Club brings students and staff together as they partake in exciting activities! Students are provided with snacks and homework help, known as Power Hour.
At After School Intervention, teachers reteach previously taught skills. Students also receive homework help. Teachers strive to make sure that scholars understand the content in the areas they need help with.
We have an enrichment program known as STEAM. In this program, students become familiarized with coding, robotics and engineering. It takes place in the innovation lab, which is our designated space. The room has a green screen, where Clash robots and Sphero robots are utilized. Students gain a technological understanding, which can be applied to the real world. 
Hazard received the Gold Ribbon Status for the technological training model. Our teachers and staff worked hard to implement the 21st century skill of digital literacy for the technological age we live in. As a result, students have shown excellent results from their complete comprehension of these skills.
Our awards to students reinforce the importance of achievement. We have the Trimester Awards Assemblies, which are held to recognize academics, attendance and behavior. Monthly flag and spirit assemblies are held, to highlight positive traits. Selected students are entered in a drawing, and the winner receives a delectable Jack-in-the-Box lunch! These traits are enforced because Hazard is a PBIS (Positive Behavior Intervention System) school. The community works hard to influence good communication via exceptional behavior. Our school has had positive results!
Come support your scholar's special moment of fitness at the annual Jog-a-thon on March 30th! Students will run their hearts out and embrace what it means to be healthy and active.
For parent-teacher contact, we use Parent Square.  Teachers may send private messages to parents regarding their child's success.
We are excited for a new school year together, and look forward to our students achieving their personal and academic goals!